SECTOR ONE OF THE MEMBER'S AREA
Here are two samples of the 10 image weekly story
Diamond Strike in "Payback's Bitch!"
The ending where she wins.

There were also 5 larger than normal sample images of
Princess Power's 5 page installment of "Noble Blood!"
In her area.
Time Tunnel Four was updated featuring "The Return of American Woman!"
And a Smudge short story "Demon Stone: Lair of Sadistica!" featuring Butterscotch Fox.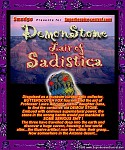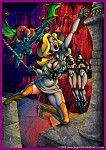 PLUS! The prologue of Galaxy Girl's story was posted in the video area!

Images in the Zone are larger.
For everything that is new this week in the member's area, check out What's New!